This Web site was designed using Web standards.
Learn more about the benefits of standardized design.
Quick Links
Main Navigation

Top Stories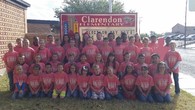 Fifth graders attend Ag Day in Memphis
Clarendon fifth graders, along with other surrounding towns, came together last Wednesday in Memphis to learn first-hand what Agriculture means to their towns and the people who live there. Clarendon and Memphis take turns hosting the event and Claude, Hedley, Motley County and others participate. An annual event for a few years now, Ag Day gives each student an opportunity to not only learn about agriculture, it allows them . . .
Expanded to benefit dual credit hours
The PEAK Scholarship is a joint effort by Clarendon ISD and Clarendon College to benefit local students. It was recently expanded to pay for high school students taking in dual credit classes. Read more about it in this article by Clarendon College. Every year the parent organizations, Bronco Parents, Colt Parents, and Pony Parents, donate money to the scholarship fund. This money is gathered through . . .
Student Information
Follow Us

Clarendon High School

Clarendon Jr High
Current Highlights