This Web site was designed using Web standards.
Learn more about the benefits of standardized design.
Quick Links
Main Navigation

Top Stories
Our children need nutritious meals to learn, grow and thrive-even when school is out. With the Summer Food Service Program , children and teens ages 18 and younger can continue to eat healthy throughout the summer at no cost, just by showing up at a participating meal site. The local Clarendon site is Clarendon Community Summer Lunch Program.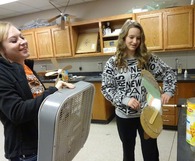 CHS Physics Students Create Working Windmills
Students at Clarendon High School did a study of wind energy across the United States and discovered that the Texas panhandle region is a leader in producing electricity from wind turbines. In fact, Texas leads all other states in total electricity generated from wind by a more than 2-1 margin. Two of the universities that have been leaders in wind power for several decades are WTAMU, where wind studies began in 1970, and Texas Tech . . .
Student Information
Follow Us

Clarendon High School

Clarendon Jr High
Current Highlights